A list of every book to film adaptation in 2015.
January - March
The World Made Straight (Jan. 9)
The Humbling (Jan. 23)
Brooklyn (Jan. 26)
In 1950s Ireland and New York, young Ellis Lacey has to choose between two men and two countries.[1]
Trash (Jan. 30)
Wild Card (Jan. 30)
Fifty Shades of Grey is the hotly anticipated film adaptation of the bestselling book that has become a global phenomenon. Since its release, the "Fifty Shades" trilogy has been translated into 51 languages worldwide and sold more than 100 million copies in e-book and print—making it one of the biggest and fastest-selling book series ever.
Stepping into the roles of Christian Grey and Anastasia Steele, who have become iconic to millions of readers, are Jamie Dornan and Dakota Johnson.
Joining Dornan and Johnson in the cast are Luke Grimes as Elliot, Christian's brother; Victor Rasuk as José, Anastasia's close friend; Eloise Mumford as Kate, Anastasia's best friend and roommate; Marcia Gay Harden as Dr. Grace Trevelyan Grey, Christian's mother; Rita Ora as Mia, Christian's sister; Max Martini as Taylor, Christian's bodyguard; Callum Keith Rennie as Ray, Anastasia's stepfather; Jennifer Ehle as Carla, Anastasia's mother; and Dylan Neal as Bob, Carla's husband.
Fifty Shades of Grey is directed by Sam Taylor-Johnson and produced by Michael De Luca and Dana Brunetti alongside E L James, the creator of the series. The screenplay for the film is by Kelly Marcel.[2]
Suite Française (Mar. 13)
The movie starts where Divergent had ended, with Tris leaving the Dauntless compound. Tris must search for Allies with boyfriend Tobias Eaton along with Peter, Caleb and Marcus Eaton after the tragic deaths of Will, Natalie and Andrew Prior.
Being hunted down by Erudite leader Jeanine Mathews, Tris and Four have to race against time as they try to figure out what it was Erudite had, that lead to the many Abnegation that had sacrificed their own lives to protect.
So Tris is haunted by the horrific bad choices she had to make in the past, such as killing Will to save herself and her mother at the time. Tris also has one more obstacle to face - to unlock the truth about why her parents died.
She is faced with a cold feeling from her best friend Christina, who was close friends with Will and might of called them a couple. Tris and her friends have to fight against all odds...and against time.[3]
The Gunman (Mar. 20)
April - June
Dark Places (Apr. 8)
The Longest Ride (Apr. 10)
Beyond the Reach (Apr. 17)
Child 44 (Apr. 17)
... Help the wiki here on the information of the upcoming film adaptation!
Far from the Madding Crowd (May 1)
Every Secret Thing (May 15)
Madame Bovary (June 12)
Me and Earl and the Dying Girl (June 12)
July - September
A young man and his four friends embark upon the road trip of their lives to find the missing girl next door.[4]
Z for Zachariah (Aug. 28)
October - December
Pan (Oct. 9)
Beasts of No Nation (Oct. 16)
A young kid teams up with the niece of young adult horror author R.L. Stine after the writer's imaginary demons are set free on the town of Greendale, Maryland.[5]
Room (Oct. 16)
The Dressmaker (Oct. 29)
Kill Your Friends (Nov. 6)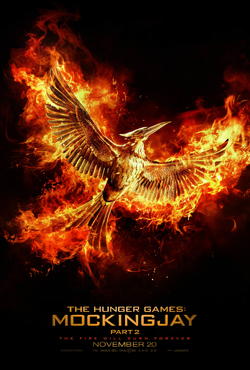 The worldwide phenomenon of The Hunger Games continues to set the world on fire with The Hunger Games: Mockingjay – Part 2, which finds Katniss Everdeen (Jennifer Lawrence) and District 13 engage in an all-out revolution against the autocratic Capitol.[6]
The Danish Girl (Nov. 27)
The Big Short (Dec. 11)
In the Heart of the Sea (Dec. 11)
In the winter of 1820, the New England whaling ship Essex was assaulted by something no one could believe: a whale of mammoth size and will, and an almost human sense of vengeance. The real-life maritime disaster would inspire Herman Melville's Moby-Dick. But that told only half the story. "In the Heart of the Sea" reveals the encounter's harrowing aftermath, as the ship's surviving crew is pushed to their limits and forced to do the unthinkable to stay alive. Braving storms, starvation, panic and despair, the men will call into question their deepest beliefs, from the value of their lives to the morality of their trade, as their captain searches for direction on the open sea and his first mate still seeks to bring the great whale down.
Based on the 1820 event, a whaling ship is preyed upon by a sperm whale, stranding its crew at sea for 90 days, thousands of miles from home.[7]
References
Community content is available under
CC-BY-SA
unless otherwise noted.